Candied Walnuts: The Ultimate Cold Weather Snack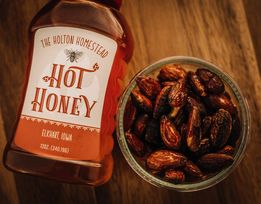 Makes one cup
Ingredients:
1 cup walnuts (You can also substitute for almonds, cashews, peanuts, or pecans)
1/4 cup wildflower honey (If you like spicy, try our Hot Honey, jalapeño, mango habanero, or pineapple ghost creamed honey)
Chef Note: "Roasting the nuts before adding honey is optional, but can really help add a richer flavor."
Instructions:
Step 1: In a small saucepan over medium/high heat, bring the nuts and honey to a boil.
Step 2: Boil for 3-5 minutes, or until the honey thickens and starts to caramelize. Shake the pan every minute or so to make sure all the nuts are evenly coated and to prevent them from burning. There should be hardly any honey left at the bottom of the pan.
Step 3: Pour the nuts onto a cooling rack lined with parchment paper. Let them cool completely. Do not store in the refrigerator; instead store in an airtight container at room temperature for up to two weeks.
Use on Salads or Eat them as a Snack!