Chocolate Cookies: Large Batch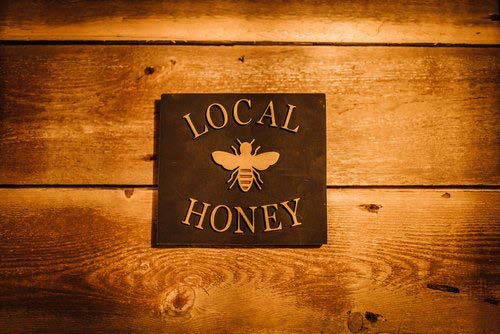 Makes about 40 cookies
Ingredients:
15 Ounces Bittersweet Chocolate Chips (at least 67% cacao), Divided
1 Stick (1/2 Cup) Unsalted Butter, Cut into 1/2 inch Pieces
3 Large Eggs
1/2 Cup of Honey Total
You could play around with this. We recommend 1/4 cup of our
chocolate creamed honey and 1/4 cup of vanilla infused honey. Other honey flavors you could try: wildflower, cinnamon, peanut butter.
1/4 Cup Firmly Packed Light Brown Sugar
2 1/2 tsp. Finely Ground Dark Roast Coffee Beans
1 tsp. Pure Vanilla Extract
1 Cup All Purpose Flour
1/4 Cup Unsweetened Cocoa Powder
1/2 tsp. Baking Powder
1/2 tsp. Salt
1/2 tsp. Ground Cinnamon
Instructions:
Step 1: Preheat the oven to 350 degrees. Line two baking sheets with parchment paper and set aside.
Step 2: In a double boiler or a metal bowl over simmering water, melt 9 ounces of the chocolate chips with the butter, stirring until smooth. Remove from the heat and set aside.
Step 3: In a standard mixing bowl, fit with whisk attachment, beat the eggs, honey(s), brown sugar, and ground coffee for 3-5 minutes, until well mixed and lightened in color.
Step 4: Add the melted chocolate mixture and the vanilla and beat until thoroughly combined.
Step 5: In a medium bowl, whisk together the flour, cocoa powder, baking powder, salt, and cinnamon. Add this mixture to the chocolate mixture and stir until just combined.
Step 6: Remove the bowl from the mixer and, with a rubber spatula, fold in the remaining 6 ounces of chocolate chips. Let the batter rest for about 5 minutes.
Step 7: Using a small scooper or a tablespoon, portion the cookie dough onto the prepared baking sheets, spacing the cookies about 2 inches apart.
Step 8: Transfer the baking sheets to the oven and bake for 12 to 14 minutes, rotating the sheets halfway through, until the cookies are puffed and cracked on top.
Step 9: Remove the cookies from the oven and let them cool on a baking sheet for 2 minutes, then transfer them to wire racks to cool completely. Store them in an airtight container at room temperature for up to 5 days or in the freezer for up to 6 months.
Enjoy Your Chocolatey Treat!