Pan-Seared Chicken with Garlic Infused Honey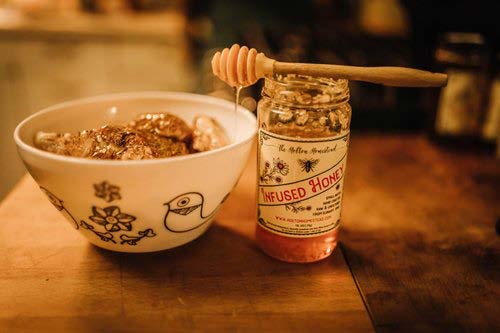 Ingredients:
1 Lb Chicken Breast
1 tsp. Garlic Salt
1/2 tsp. Pepper
1/4 Cup Flour
Olive Oil
2 Tbsp. Butter
1/2 Cup Garlic Infused Honey (or salted garlic creamed honey)
1 1/2 tsp. Apple Cider Vinegar
1 tsp. Soy Sauce
Instructions:
Step 1: Preheat your cast iron skillet with a generous amount of olive oil over low/medium heat.
Step 2: Slice chicken breast in half horizontally then sprinkle with garlic salt and pepper on both sides. Toss the chicken breast in flour.
Step 3: Cook chicken until golden brown on both sides, remove and set aside.
Step 4: In the same skillet add butter, apple cider vinegar, soy sauce and honey. Stir while bringing it to a simmer.
Step 5: Add chicken back to the skillet, flipping to coat both sides in glaze.
Step 6: Cook until chicken temp is at 165 degrees, plate then drizzle any remaining glaze over the chicken breast.
Eat up!