Seasonal Rosemary Honey Glazed Pork Loin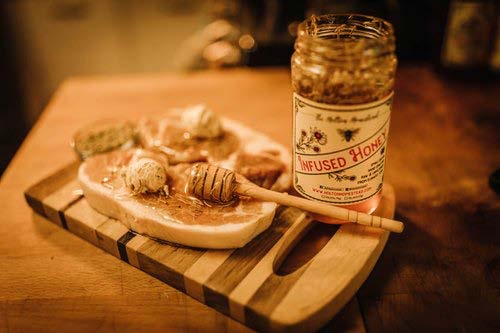 Ingredients:
½ Cup Apple Juice
½ Cup Cider Vinegar
¾ Cup Rosemary Infused Honey
1 Tbsp. Chili Powder
1 Tbsp. Coriander
1 Tbsp. Cumin
1 Tbsp. Garlic Powder
1 Tbsp. Onion Powder
1/2 tsp. Salt
1/2 tsp. White Pepper
4 Lbs. Boneless Pork Loin Roast
Instructions:
Step 1: Begin by making the glaze: Combine all ingredients into a sauce pan bringing it to a boil. Once it has been brought to a boil reduce heat and let simmer uncovered and stir frequently until it begins to thicken.
Step 2: Preheat the oven along with your cast iron dutch oven to 350 degrees. Sprinkle the pork loin with a generous amount of salt and pepper then a drizzle of olive oil.
Step 3: Roast for one hour then slather on the honey glaze and repeat 2-3 times every 10 minutes or so until the thermometer reads 145 degrees.
Step 4: Once finished add the remaining glaze. Let stand for 10 minutes before slicing.
Enjoy!